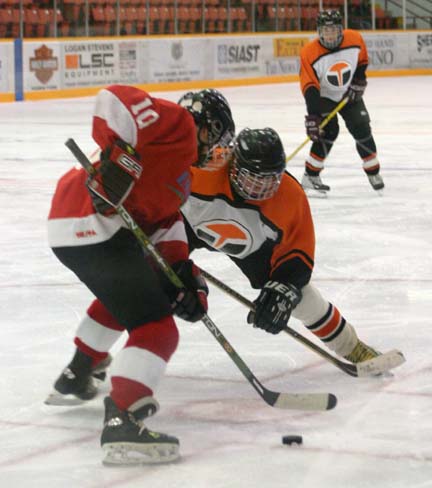 Hometown Cycle Midget AA Terrier Justin Stupak takes the face off at a season opening home game at the Farrell Agencies Arena.
Hometown Cycle Midget AA Terriers open season
By ALEX MORGOTCH
News Review
After completing their exhibition season with a pair of games at Whitewood, the Yorkton Hometown Cycle Midget AA Terriers opened their regular season with a pair of home games against the Weyburn Encana Wings over the Thanksgiving weekend.
Saturday, October 7, the Midget Terriers were narrowly edged out 5-4 by the visiting Wings.
Nathan Shabatura led the scoring for Yorkton with a pair of goals, while Shelby Gray and Taylor Schick each added a goal.
Ryan Romanow, Regan Camrud, Logan Calanchie, Jordan Kramer and Nolan Friday each earned an assist in the game.
Weyburn came back Sunday afternoon, not to be denied, shutting out the hapless Midget Terriers 4-0 at the Farrell Agencies Arena.
Yorkton head coach Brian Boechler says the Midget Terriers came out with some good effort initially. "They played with speed. They had some jump. They did the things we've been working on and we looked good with a 2-0 lead going into the first intermission," he says.
Penalty trouble and some selfish play in the second period opened the door for Weyburn to get back into the game. "We were lucky that after the second period it was tied up 2-2. It could have been just about out of hand," Boechler comments.
"Congratulations in both games go out to our goal tenders because both of them played extremely well," Boechler states. Devon Byblow played the first game very well and Luke Boechler, who'd like to have the first goal back, also played very well, he says.
Overall, the defense played very well, Boechler states.
"When the team was struggling, it was because our forwards, even though they thought they were skating, they really weren't moving and they really weren't playing. They weren't coming back hard into position and they weren't coming back hard with their back checking," Boechler claims.
While the forechecking was okay, they forwards were skating hard, but they weren't skating with a plan, Boechler adds. "We've worked pretty hard at practice, especially on the forechecking. Unfortunately in the heat of battle we started to lose our speed and lose our concentration a little bit," he suggests.
The midgets played some undisciplined hockey, Boechler feels. "We've got a fairly talented team overall. If we don't play with discipline, and if we don't play with intensity and speed, we're going to have difficulty every night," he predicts.
On the other hand, he believes if the team comes out and plays with the kind of discipline its capable of, using the speed the players have, the Midget Terriers will be in every game.
Injury and suspension problems are now behind the Midget Terriers, Boechler notes. Wyndon Cyr broke his arm causing him to miss the opening series. Brandon Whitehawk who's showed incredible poise suffered a bad bruise and sprain after being taken into the boards very hard.
Whitehawk may be back for the next series, while Cyr will be out for awhile.
"We're getting pretty close to healthy and back. We'll see, hopefully the boys will play with the kind of discipline we need to come out with a win in the next series," Boechler closes.