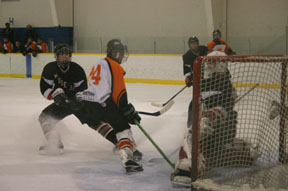 Midget AA Terriers battle Warriors to a draw
By ALEX MORGOTCH
News Review
The Yorkton Hometown Cycle Midget AA Terriers were in tough over the weekend, managing a loss and a tie with the Moose Jaw Western Dodge Warriors at the Kinsmen Arena.
Saturday, the Midget Terriers scored one goal in each period to fall 5-3 to the Warriors.
Nathan Shabatura gave the Midget Terriers a 1-0 lead scoring Yorkton's lone first period marker, assisted by Dylan Trollope and Keegan Erhardt.
Brett Profit, assisted by Kyle Pfeifer, turned in the single second period goal to give the Midget Terriers a 2-1 lead after 40 minutes of play.
Evan Neibrandt's singlehanded marker capped Midget Terrier scoring.
Unfortunately for the Terriers, Moose Jaw exploded for four third period goals to win the game 5-3.
The Midget Terriers took a one goal lead into the dressing room in the second game of the two game series, as Derek Hull scored for Yorkton, assisted by Trollope.
The Warriors took over the lead with two second period goals while holding the Midget Terriers off the scoreboard in the second frame.
Two third period goals put the Midget Terriers back on top.
Cory Bashutski knocked in the first seconds into the period, assisted by Pfeifer and Erhardt to tie the game.
Neibrandt slipped the go-ahead goal past the Warriors netminder, assisted by Bashutski.
Moose Jaw knocked in the tying goal with less than a minute left on the clock to tie the game 3-3.
Assistant coach Gary Lamb says the Midget Terriers played well as a team for the last five or six games. The 5-3 loss was a setback, but the tie in the following game got the team back on track. "We started over today, led by guys like Neibrandt, Bashutski and Yarycky. Everybody played well to a man," he states.
A little bit of a mental breakdown opened the door, allowing the goal with 50 seconds left in the game which ended in a tie. "Those things happen in a game, but overall our boys played very well," Lamb comments.
"We won four of our last six games. You can't scratch at that. It's just a matter of stepping up and winning some more games. We have to find ways to do that," he offers.
The Midget Terriers currently sit in ninth place, three points out of sixth place in the league standings. "Anytime we can step up and find a way to win, we could be in a playoff spot," Lamb suggests.
"We can finish anywhere up to fifth place if we win eight of our last 11 games," he points out.
"If the boys keep playing like this, it's bound to happen," Lamb closes.