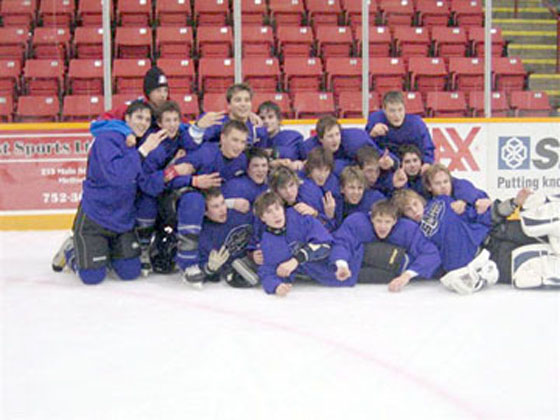 By Shelley Tomlinson
of The Journal
The intense energy level could be felt emanating from members of the Zone 4 men's hockey team as they celebrated their bronze medal win Tuesday night.
Zone 4, winning by a score of four to one over Zone 3, earned the bronze medal on Feb. 14 at the Northern Lights Palace.
One goal came relatively early in the game with only twelve minutes into the bronze medal competition.
"That was a big one for us," said Zone 4 player Cory Bashutski of Yorkton."It gave us the energy we needed to win."
Fellow teammate Jarrett Waldbauer of Melville said winning the bronze was pure excitement.
It's better than going home with nothing," he said. "We gave two days of solid effort in and we've been rewarded for it."
The Zone 4 team can relax knowing they are going home with a medal in hand.