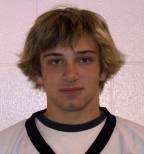 Yorkton Midget AA Terriers

7 Clark Byczynski
Hometown : Bredenbury
Age : 15
Position : Defence
Shoots: R
Height: 5'10"
Weight: 175 lbs.
Last Year's Team : Yorkton Bantam AA Terriers
Number of years playing hockey: 11-1/8
Fav. NHL Team: Toronto Maple Leafs
Fav. NHL Player: Bobby Orr
Fav. TV Show/Movie: Haggard / Fubar / A Walk to Remember
Fav. Music/Band: Simon and Garfunkel
Fav. Saying: I have a belly button.
Best Hockey Memory : Winning Bronze in Westerns.
Future Ambitions: Go as far as possible in Soft Ball.